iDesign
Software to create texts and control our complete range of inkjet coding systems, no matter if it is a TIJ (Thermal Inkjet) system working with cartridges from Hewlett Packard® or Funai® (previously Lexmark™) or a Piezoelectric system with Seiko®, Trident® or Xaar® technology.
Minimum Requirements - iDesign8+
Windows 11
Windows 7, 8 or 10 (32 or 64 bit)
Windows XP and Vista (with older iDesign version)
1GHz CPU
2GB (32 bit) or 4GB (64 bit) of RAM
512MB of Free Disk Space
Features - iDesign8+
Modern and Intuitive Interface
Clean and easy to use interface with a fast-learning curve. You can select from one of 4 color themes, including the classics bright and dark color schemes.
With All You Need for Your Designs
Design your texts in a matter of minutes. Add text fields, counters, barcodes, images, times, dates and expiration dates. You can also insert variable fields and fields that retrieve data from a file or database.
Multi-Task Design
You can have multiple texts open for edition at the same time. And you can copy and paste fields between the different texts, which is very useful.
Monitor and Control Your Factory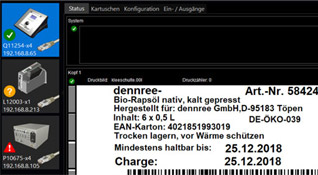 iDesign is not a simple software that only allows for text creation and submission to the systems to print. It is much more than a mere editor. It can monitor the status of all the installed system, giving an overview of each and every system on your factory. You can see what a certain system is printing and obtain or change print parameters and configurations. Get a global overview of your whole production, making sure that all systems are working normally or if there are systems running out of ink or in error conditions. It is possible to create groups of systems, for example, for multiple production lines of factory areas and start or stop print jobs all at once in all the machines of that group.
One Single Software for All Types of Controllers
iDesign supports all the inkjet coding systems from Mark-o-Print that we sell. No matter what inkjet technology you are going to use: HP®, Funai®, Seiko®, Trident® or Xaar®, you will not have to install and learn to use a different software.
Calculate Ink Consumptions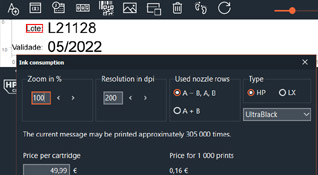 Create your texts and open the ink calculator. Select the ink type and the print parameters that you are going to use and you will get a very good estimation of how many prints you will be able to do with a single cartridge. And if you type in the price of the cartridge, even the cost per each thousand prints will be shown. It is true, the cost per each print is a tiny fraction of a cent.
Always on Top of Things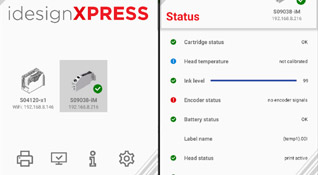 Have absolute control at all times. Install idesignXPRESS in your smartphone or tablet and control the systems remotely. Currently only available for Android:

[↗] idesignXPRESS (via GooglePlay)
Only Needs a Touch-Screen or a Mouse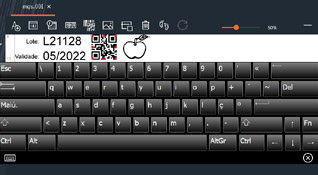 iDesign was made thinking about the touch-screen fans in the factories. You can easily press each button and call a virtual keyboard to be displayed on the screen. The keyboard automatically appears in the configured operative system's keyboard language. If you do not have a touch-screen, you only need to plug a mouse in.
Flexible Variable Input
You can insert multiple variable fields in the texts. When the print is started, each variable will be prompted to the operator to fill in. If you start the print job from a PC, the variable inputs are done directly on the PC and the inkjet controller will be ready to start printing. If you start the print job at the inkjet controller, you can type in the variables directly on the controller without needing to turn on the PC.
Choose Any Font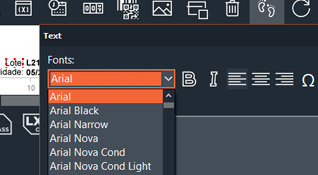 Use the native fonts that already come in the inkjet system, send new TrueType fonts to the controller, or simply use any font available on your operative system and they will be converted to graphics. Includes support for Unicode characters.
Insert Any Image
You can quickly add images and logos to your texts. You can insert any JPEG, PNG and BMP images and they will be converted automatically to black and white and you can freely resize them, without having to spend time processing the image externally.
Automatic Expiration Dates and Shift Codes
Besides the normal system date and time fields, you can create date and time offsets to easily include automatic expiration dates in your texts. It is possible to use any date and time format. You can even go further and define 4 working shifts strings and set the starting and finishing hours of each shift. Some factories include these shift codes in their batch and lot numbers.
Create 1D, 2D and GS1 Barcodes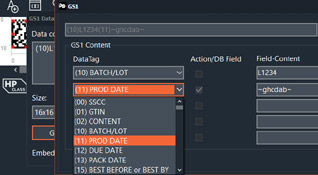 There is support for many barcode symbologies: EAN family (8, 13, 128, GS1-128, ITF14...), Code39, UPC, among others. There is also support for 2D codes such as the Datamatrix and the QR-Code. GS1 barcodes are included with a field builder assistant to make the creation process much easier and faster. You can change the size of the barcodes using only valid proportions and with automatic check-digit calculation you won't have reading problems later. Hide or show the human readable information next to your barcode. If you need a barcode that is not currently supported, it can be added by request.
Print Barcodes in Any Surface
Print valid and readable barcodes in any product, even on surfaces that are extremely absorbent or not absorbent at all. In certain materials, it can happen that the ink will bleed slightly, which will make the bars of 1D barcodes thicker and the black and white squares of 2D barcodes bigger and smaller respectively, causing serious reading issues or making them completely impossible. It is possible to activate and configure a corrective algorithm that predicts the overflowing of the ink outside their intended boundaries and automatically shaves off certain pixels. The results are unbelievable and it really works! In order to always produce valid barcodes, it is heavily recommended that you use a shaft-encoder, so that the system is printing at the right speed at all times.
Connect to Your Databases
Access to any database via ODBC and fill in multiple fields automatically with the data from the chosen database entry or print the whole database from the beginning to the end, for example, to print serial numbers, lottery codes or addresses. Reach print speeds of up to 3 000 database entries per minute.
Obtain Remote Data
Start the iDesign Remote service that allows the extraction of information from simple text files, CSV, XML or PDF files. The service can be set to watch a certain folder on your local PC or in the network and reads the data and prints as soon as a file is placed on that folder.
Embed Print Parameters in the Texts
When you create your texts, you can embed print parameters, such as print speed and direction, resolution, zoom, delay (to print in another area of the product), number of repetitions, among others. When starting the print job, the controller automatically switches to the print configuration included in the text.
Connect in Multiple Ways
Connect with the controllers using an Ethernet, USB or RS-232 connection. Another way is to copy the texts, logos and fonts to an USB-stick and put it in the controller to upload the files.
Send and Receive
Send texts, fonts, images and configurations to the controllers or receive them from the controllers. If you have created texts directly on the controller, you can download them to the PC. You can create or restore backups of the data and configuration schemes.
Manage Users
Besides setting passwords to protect menus of the controller, iDesign also has user management. You can select several modes: No authentication, a single user and password, advanced user management (multiple users and permission groups) or use the advanced GAMP mode. This mode respects the GAMP 5 rules, such as keeping a log with a historic of "who did what and when" and automatic log off in case of user inactivity.
Keep an Event Log
The software logs up events about authentications, print jobs and configuration changes.
Observe Every Signal State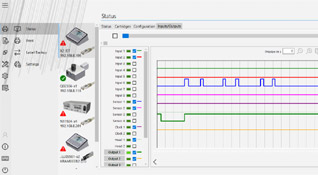 With a single glance, know all the input and output signals that are up or down, that is, active or inactive in your controller. A graphic is generated in real-time showing signal changes, great for advanced users and automation and integration technicians to troubleshoot problems.
Approved by Programmers
iDesign saves the print drawings in text files that you can easily open, read and modify. The communication with our controllers is also very easy and the commands are all well documented. This allows you to create your own customized software, without any headaches. Know more in dedicated software development.
Compatible with Any PC Running Windows®
Is your computer running Windows®? Then it also runs iDesign. Works in any 32- or 64-bits Windows® environments.
Share Your Data
Not only you can retrieve remote information to make up your texts, but you can also share the iDesign data folder in the network so that all users have access to the same fonts, images, print texts (labels) and data files.
Completely Free of Charge
All this must be expensive... Wrong! When you acquire an inkjet system you receive the iDesign software completely free, without any additional cost and with a life-long license. With no restrictions whatsoever. You can install it any number of times you want, in any PC, there is no usage limitation at all.
Control Over Updates
And if all this was not enough, you are entitled to free and automatic updates. But you are not forced to update. You can disable the function to maintain the stability with older systems with outdated firmware.
Software with History
The iDesign8+ is the most recent version of the iDesign software that in turn is the evolution of the old Editor3 software.
Get All the Help You Need
Benefit of quick help and competent support, free of charges. We are always available to help you by email or phone and we can even create your print texts. We also provide installation and training services.
Check Also:
Disclaimer
The final version of the delivered system may not match entirely with the presented images and specifications.