Labels
We have our own in-house label manufacturing department and we can use a wide range of raw materials from prestigious suppliers to produce your labels. We are proud to allow complete freedom in the label manufacturing, no matter what your demands are.
Made in Portugal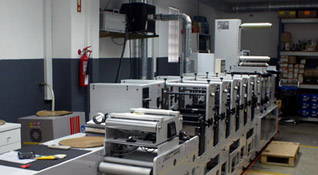 More than 90% of our label production is made internally at our facilities. Cut and printed by our press operators, in our machines, we contribute for the local economy. We use the best flexographic presses and slitter-rewinder machines to produce your labels.
High-Quality Raw Materials
In order to always maintain the same high-quality, we only work with the best world-class suppliers for self-adhesive materials. The adhesives are controlled to always meet the adhesion specifications and are separated from the frontal part of the label by a protective layer to prevent the passage and absorption of the glue by paper which would cause an early yellowing of the label. Before and after being produced, the rolls are always stored at the best environmental conditions when it comes to temperature, humidity and luminosity, so that you will not experience any kind of adhesion problems after applying your labels.
Fully Customizable
Select the kind of label frontal material (type of paper or film), pick the adhesive, choose the label dimension and format, specify the internal roll core (cardboard tube) diameter, tell us the number of labels you want per roll (or better yet, the model of your printer or the maximum external diameter of the roll and we calculate the quantity of labels per roll for you) and inform us if you want a blank label or a printed one. You have total freedom. We can deliver the labels in rolls or in fan fold (zig-zag) packs.
Label Frontal
Paper Labels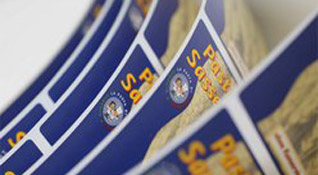 The frontal of your label may be simple paper, but there are many kinds and finishes available. Among others, we highlight:
Matte Paper
The most usual and economic paper. Perfect for box and pallet labels.
Semi-Gloss Paper
With a better-looking finishing, without affecting the adhesion of the ink from the thermal-transfer ribbons at all.
High-Gloss Paper
For an exquisite and glossy finish.
Thermal Paper
To use in thermal printers without thermal-transfer ribbons.
Thermal Paper with Protection
With a protective layer that makes the prints more durable, making the label a little more resistant to heat sources or grease.
Special Inkjet Paper
Glossy paper which not only offers better ink drying properties, but also improves the resulting colors of the inkjet prints.
Polymer and Film Labels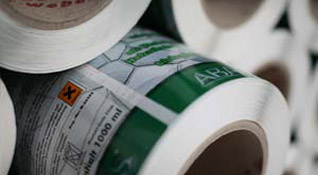 Who said label's fronts are always made of paper? You can choose from many special materials to get a more high-quality look and/or to obtain more resistant labels. Among other materials, we highlight:
Polyester (PET)
Extremely durable, tear-proof, resistant to liquids, with a classy-look and a glossy white or silver finishing.
Polyethylene (PE)
Durable, with a not so glossy finishing, very popular for plastic bottles, cans and shampoos.
Polypropylene (PP)
They have good rigidity and are commonly used in cosmetics and other house-hold products.
Vinyl/PVC
Indicated to outdoors usage, thanks to its weather resistance, and they provide good optical readings.
Destructible PVC
These labels are extremely hard to remove because they break in tiny fragments and are impossible to reposition.
Label Adhesive
Different Adhesives for Any Surface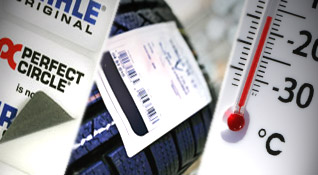 The frontal material of the label is already of great importance to withstand the conditions that your product will face in its life cycle, but the adhesive has an even more vital role. Selecting the right type of adhesive is fundamental to ensure that the label will not peel off and fall off the product some point in time after it is applied or even to prevent that the glue will harm the product, for instance, when removed from a book cover. Among others, we highlight:
Permanent Adhesive
The most usual and universal glue.
Extra-Strong Adhesive
With a stronger hot-melt glue for harder or rugged surfaces.
Removable Adhesive
The label can be removed without leaving behind glue residues. Perfect for books and CD/DVD/Bluray cases.
Repositionable Adhesive
Besides being removable, the label can still be re-applied in another product or place (up to a certain number of times).
Adhesive for Frozen Products
Glue fit for products that are frozen or exposed to cold temperatures or humidity.
Adhesive for Tires and Rubbers
Glue to stick on difficult surfaces such as rubbers, tires, among others, where normal glue is ineffective.
Opaque Adhesive
There is a black and opaque layer between the label and the adhesive. Perfect to cover wrong or outdated information that was printed on a product, as the information behind will no longer be visible by translucency.
Without Adhesive (Tags)
Labels without any glue whatsoever, usually to be hanged. Generally, these labels are made of thicker paper or card stock (also known as pasteboard).
Special Security Label Adhesives (Void or Stop)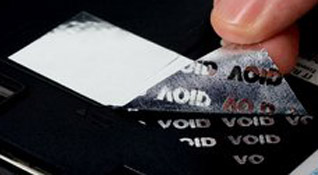 If peeled off from a product, they will leave glue behind with the word VOID or STOP and the label front will be irreparably damaged with that same word or signal in negative. They are perfect to seal your products and offer the warranty that such product was not opened or violated before. You can print text in the label frontal, generally sentences like "Warranty void if the label is removed or damage".
RFID Smart Labels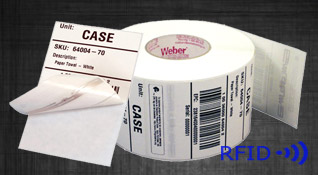 Labels that have a built-in RFID chip. You can store any kind of information on the RFID chip of your labels. Later, you can read back such data automatically when the label passes through certain reading checkpoints. You can write information on the chip with a RFID thermal-transfer printer. There are several classes of RFID antennas that you can chose from.
Label Sizes and Roll Specifications
We give you complete freedom when choosing the specifications for your labels, so that they are compatible with any printer or labeling systems and suitable to your specific product in particular.
Rectangular Labels with Round Corners
Tell us the desired label width and height and that's it. You can go even further and indicate the radius of the label corner's curvature. For a more economic price, you can choose dimensions for which we already have cutting tools. We have hundreds of rotary dies to cut the labels and, if we don't have the exact sizes, we can suggest the closest dimension possible for you or we can simply make a new tool with the exact format you need.
Circular or Oval Labels and other Irregular Forms
You do not have to restrict yourself to use rectangular labels. Circular, oval, triangular, star or cloud shaped labels or with any kind of irregular form you require, the labels will fit like a glove on your products.
Continuous Stock
We also do continuous rolls of any length. Like this, you can set variable label heights at print time, given that usually these rolls are used by customers with printers with a cutter installed. But some people simply use scissors to cut the labels. As option, we can add a little margin with a half-cut, so that you can easily peel of the label material from the liner.
Roll Cores with Different Diameters to Fit in Your Printer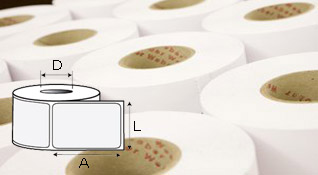 You can choose the internal diameter (D) of the cardboard tube, to match the size your printer spindle accepts. The normal standard size is 76mm, but many compact printers require 25mm cores. Some manual labeling applicators require a 40mm diameter tube.
Number of Lanes (side-by-side labels)
If you are going to use the label roll in an automatic labeler applicator, the roll must have only one lane. If you are going to apply the labels manually, the number of lanes will not make much difference, but, when your use your rolls in a printer and the width (L) of your labels is small, it is recommended to distribute the labels in 2 or more lanes, depending on your printer's print width. With two side-by-side labels, not only you double the print speed (two labels printed simultaneous), but also, you extend the lifespan of the printhead to twice the label output, as you distribute the wear along all the printhead. And if you use 3 lanes, then the gains are tripled, so the more, the better. And it is extremely easy to set up the number of lanes in our labeling software, the Legitronic® software. All you need to do is specify how many lanes the roll has and the space between lanes, and it is ready to go. And if you have counters and variables, you can modify a setting to indicate if the serialization is to be done horizontally or not, that is, if the lanes are to be exact copies of each other. It is very simple.
Perforated Liner Between Labels for Easy Tear
We can make cutting tools to perforate the label liner in between each single label or each label group. The small perforations help cutting the liner by hand and also allows to make fanfold (zig-zag) packs.
Quantity of Labels per Roll
It is your choice. If you tell us which printer model you have, we can make the roll with the maximum labels possible so that the external diameter of the roll does not exceed the dimension that your printer accepts. Like this, you avoid constant stops to change the label roll.
Print
How do you like your labels? Blank, with a background color, printed with constant or variable data? No problem at all.
Blank Labels (No Print)

Labels that are delivered in the original color of the material, usually white. Normally, the customer will use their own printers to write the information on the label, and these labels are usually for pallets or card boxes.
Choose the Background Color

We paint a background color on the label, using inks that are suitable for thermal-transfer printing. Normally, the customer will use their own printers to write the information on the label, but as they look more attractive, they can already be applied onto the final product.
Labels with High-Quality Flexographic Prints
It is important to draw attention to your product and the label can make all the difference. Send us the drawings that you want printed on your label and we will use the best flexographic techniques to produce quality results. Optionally, we can put a varnish layer to give a glossy look, for a very attractive and spotless look, not to mention the increase in the resistance of the label.
Pre-Printed Flexographic Labels (Partial)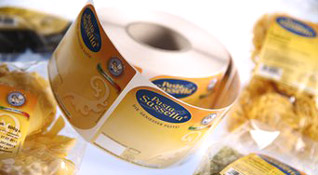 Similar to the previous method, but there will be a free area for you to print variable data with your printer at a later time. In the case of varnish covering, a special tailored print stereoplate is made in a way that a varnish window is left opened in the area where the data will be printed (varnish reserve), so that the text can easily adhere to the label.
Digital Printing with Constant or Variable Data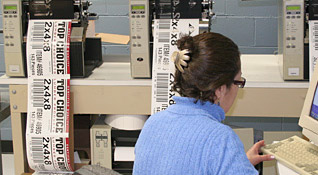 For small order quantities that do not justify the costs for the creation of stereoplates, and/or it is necessary to print variable data and the customer does not own a label printer, we can do the job for you in our own thermal-transfer printers. Counters, batches, expiration and production dates or other variable information (you need to send us your database or spreadsheet), we will print exactly what you need. The print is digital and generally made in one color (color of the print ribbon) but we can combine the previous methods to do, for example, a label with a background color or the company logo in color plus the variable data.
Request a Quotation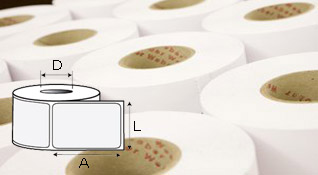 Contact us now to receive a price quotation without any costs. To do so, send us an email for inquiring where you answer to questions shown below (copy the text into your email):

Send To:
I would like to receive a quotation for labels with the following specifications.

Type of Print: blank / background color (ex: Yellow) / with print (image attached)
Label Width [mm]: (ex: 80mm)
Label Height [mm]: (ex: 40mm) / continuous
Corners (optional): indifferent / (ex: 2mm)
Adjust to Existing Dimensions?: yes / no
Frontal Material: semi-gloss paper / matte paper / thermal paper with protection / thermal paper without protection / polyester / etc...
Adhesive: permanent / removable / for frozen products / void / etc...
Internal Core Diameter [mm]: 76mm / 40mm / 25mm
No. of Lanes: 1 / 2 / 3 / etc...
Quantity per Roll: don't know / (ex: 2000 labels) / (ex: 100 meters for continuous rolls) / (ex: max. 10cm diameter)
Total Order Quantity: (ex: 100 000 labels or 50 rolls of 2 000)
-----------------------------------------------------------
Purpose of the Label: (ex: describe product surface, weather exposure, expected label lifespan...)
Printer Model: none / (ex: Zebra ZM400 4" 203dpi)

## Company Data
Name: (ex: My Company, Inc.) / optional if present in email signature
VAT Number: (ex: 123 456 789) / optional if present in email signature
Labels for resale?: yes / no
Check Also: