Geset 141-P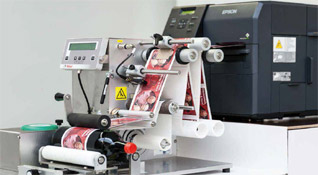 Weber® have developed a special module for the Epson® C7500 that transforms the desktop printer into a print-and-apply system to label bottles and cans. This semi-automatic system is similar to the BottleMatic with the additional flexibility of allowing you to print your own color labels moments before their application, and only in the exact quantities you need.
No Complications
These systems are perfect to label small batches and they do not require ordering pre-printed labels, conveyor belts or compressed-air installations.
Design, Print and Apply Your Labels
Release your unlimited creativity and design your own beautiful labels and apply them in a precise and professional way to attract your customers.
Excellent Precision
Apply your labels in the right spot with millimeter precision. No more misplaced, crooked or wrinkled labels.
"Just-in-Time" Printing
The problem of keeping stocks of labels with variable information that eventually gets obsolete is a thing of the past. Printing the labels when you really need them saves time, money and prevents headaches.
Low Cost Per Print
You will be able to digitally print color labels with a very high quality at quite low costs. This solution is especially profitable when you need low quantities of labels of multiple layouts.
Easy to Use
It is very easy to load the label roll and change the cartridges. The applicator unit automatically communicates with the printer to manage the label feeding.
Epson C7500 Printer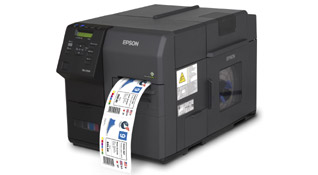 This system consists on the popular Epson® printer, the C7500 that prints quality color labels, into which a semi-automatic Wrap-Around application system is mounted, so that you can apply labels to bottles, cans and any other cylindrical-shaped products.
Say Goodbye to Compressed Air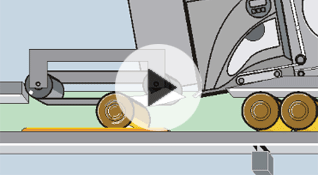 The labeler uses the popular Wrap-Around method that besides allowing the application of labels around cylindrical products, it also does all that without needing compressed-air. This means greater cost reductions and less maintenance.
Easy to Setup
This system is very easy to set-up, and you can move and align both the product and label roll guides, so that the system can be adapted to anything that you wish to label, supporting diameters up to 155mm.
Print without Interruptions
Due to the large volume cartridges of this printer, you will be able to print loads of labels without worrying about stops to change the cartridges.
High Quality Sturdy System
These labelers are very robust and reliable, with a lifespan that goes over 10 years. Built exclusively with quality materials, you will not find a single speck of rust and, besides the occasional cleaning of possible label adhesive build-up, they do not require neither lubrication or maintenance.
Safe and Certified Systems
These systems have CE certification and follow all European safety norms and do not require additional protections or safeguards, given the fact that they do not exert forces over 50N and cannot cause injuries.
Specifications

Type

Semi-Automatic Print and Apply Color Label System

Brand

Weber

Models

Geset 141-P

Print Engine

Maximum Print Speed

300mm/s

Print Resolution

600 x 1200dpi

Print Methods

Color Inkjet

Ink Type

Pigment Based

Cartridges

Cyan (300 ml)
Magenta (300 ml)
Yellow (300 ml)
Black (300 ml)
Total (1,20 l)

Application Rate

Approx. 1000 products per hour
(depends on operator's dexterity and label length)

Max. Product Diameter

155mm

Minimum Label Width

50mm

Maximum Label Width

108mm

Application Methods

Label Placement

Wrap-Around

Application Accuracy

±0,8mm

Core Diameter

76mm
Fan-fold

Unwinder Capacity

200mm

Sensors

Optic or Ultra-Sonic
Printer's Sensors

PC Software

Legitronic (recommended, not included)

User Interface

Digital HMI
Push button for application
Printer's Display

Ports

1x Label Sensor
1x HMI
1x Applicator
1x I/O (to connect to the printer's I/O port)
1x Power Connection
+ Printer's Ports

Electrical

115 a 230V AC, 50/60Hz
+ Printer's Power

Weight

Approx. 59kg (without rolls or ink)

Dimensions (Width x Depth x Height)

715mm x 310mm x 590mm (applicator)
392mm x 598mm x 395mm (printer, with closed cover)

Typical Accessories

Stand
more accessories
Alternative Products
Check Also:
Disclaimer
The final version of the delivered system may not match entirely with the presented images and specifications.