Legi-Air 4050 B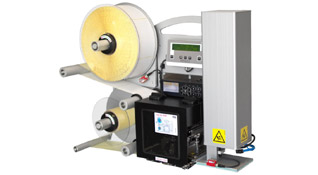 These systems use the same architecture as the prestigious LA4050. But do not misunderstand, the B of the Legi-Air 4050 B model does not stand for basic. The "B" comes from the slogan "Be Electric", as the Legi-Air 4050 B come equipped with one of 4 applicators that are powered by an electric motor instead of the traditional pneumatic ones. The system supports 4 electrical applicators for different application methods.
Legi-Air 4050 Be Fast
Do not limit your productivity! With the Legi-Air 4050 B you can print the batch number and expiration date on your pre-printed label or print the whole label when you really need it, moments before its application onto the product. The system can reach very high application rates and depending on the chosen applicator, it can achieve 240 applications per minute, that is, almost 15 000 products per hour.
Legi-Air 4050 Be Fit
Apply your labels in the right spot with millimeter precision. No more misplaced, crooked or wrinkled labels. And the problem of keeping stocks of labels with variable information that eventually gets obsolete is a thing of the past. Printing the labels when you really need them saves time, money and prevents headaches.
Legi-Air 4050 Be Safe
These systems have CE certification and follow all European safety norms. They are complete complying systems (CC) with the safety norms and do not require additional protections or safeguards, given the fact that they do not exert forces over 50N.
Legi-Air 4050 Be Electric
The EB model is 100% electrical and does not use compressed air. The other models only use compressed air to hold and blow the label against the product without any contact whatsoever. But even for those models, the cost reduction related to the compressed air is about 80%. The factory compressors have to work less, so they do not suffer as much mechanical wear and thus use less power, improving the environment and saving money.
Compatible with most Print Engines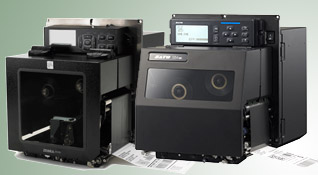 You can equip your Legi-Air 4050 B with a thermal-transfer printer module from any of the famous brands like Zebra®, Sato®, Datamax®, among many others, to print labels with good quality.
Easy to Use
This system is very easy to set-up. You just need to calibrate the printer to the label size being used, just like it is done for any other desktop label printer. Then, simply submit a print job and the applicator automatically synchronizes with the printer, catching the label and applying it onto the product that was detected by a sensor.
With Industrial Console
Quickly configure the system using the controller with a digital display. Navigate through the menus with ease, change parameters and read the system's status messages.
Use All the Features of the System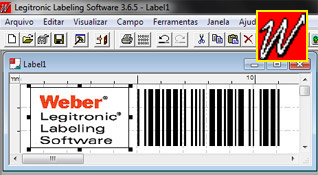 You can use any compatible software with the print engine that you have picked, but it is with Legitronic® that you can take full advantage of your printer. You can create simple or complex labels, with GS1 barcodes and RFID data and start a print job on the Legi-Air 4050 B. Learn more about the things that you can do with the software in Legitronic.
Different Applications
You can install several applicators on the system to perform simple and single applications on the top or on the side of the products with the linear stroke arm, the belt applicator or the blow box. With the rotative tamp, you can label the product's front or rear and even execute double applications, for example, simultaneous on both the front and top of a product. Or you can also apply labels on the corner of the products when using an additional pressure roll. The applications are made with contact (belt applicator) or without contact with the products, no matter if they are simple boxes or products with more complex shapes, such as bottles, flasks, cans, tires, among many other forms. With a single stand, you can adjust the system to apply on any position and the systems are available in left- or right-hand versions (LH/RH).
Few Stops
With an unwinder that allows big label rolls and a rewinder for the label liner that works in 1:1, that is, with capacity to rewind the complete roll, you will have to make few stops to do label roll replacements. And we can supply label rolls with the right amount that you need so that during the stops you can replace both print ribbon and the label roll at the same time.
Label Counter
On the digital HMI, you will have a label counter so that you know how many application cycles were performed. The counter has a capacity for 10 000 applications and then starts over automatically. You can reset the counter at any moment or you can use a countdown feature by setting the counter to a value greater than zero. In that case, the labeler will automatically stop the labeling process when the counter reaches zero.
High Quality Sturdy System
These labelers are very robust and reliable, with a lifespan that goes over 10 years. Built exclusively with quality materials, you will not find a single speck of rust and, besides the occasional cleaning of possible label adhesive build-up, they do not require neither lubrication or maintenance.
Quiet and Energy Efficient
A system that applies labels like a machine-gun must consume a lot of power and be very loud... Or not! This system consumes as much power as a computer and it is relatively quiet, keeping the noise emission below 70dB(A).
Easy Integration: Control the System
The system can send and receive several signals. As input signals, the system can execute the typical triggers to start the label printing process, extend the tamp and apply the label. The applicator can be configured to divide the 3 steps of a cycle (print, extension and application blow) or unite the extension and blow in one task and the label printing can be set to start automatically (when there is print data) as soon as the cycle begins. There are more input signals, like the reprint signal, very useful when a scanner is used to check the printed label. The input signals work in active and passive modes, that is, the 24V can be sent by the PLC or supplied by the labeler itself. Like this, only a contact needs to be switched.
Easy Integration: Get Status Information
The system makes available several output signals, such as, the information if the system is ready, if there are errors, if the tamp is in the home position, if there is data on the printer, if the printer is feeding (i.e., printing), if the label is on the tamp pad, among other signals. The applicator also sends a signal to warn when the label roll is approaching its end. You can also configure a synchronization signal that becomes active after the product's detection and deactivates at the end of the cycle, when the tamp returns to the home position, or to simply send a pulse after the application, in this last scenario, allowing a definition of a delay and duration in which the signal will be active.
Approved by System Integrators
With the Weber® policy for Global Export, the system integrator companies can export our print-and-apply systems as part of a bigger system and the final user gets all the technical support in the destination country, performed by the local distributor of that said country, all completely transparent and without additional costs. All that a system integrator must do is mention that the system is for resale and when the destination country is known, inform us about it so that we can proceed with the transfer of responsibility of the system to the local distributor.
Many Application Methods
You can equip your Legi-Air 4050 B with one of four available applicators so that the system can be perfectly adapted to your products and type of application. Or you can opt to get a version without applicator, ready to work with external robotic arms. Check the different kinds of applicators available below.
Applicators
Legi-Air 4050 B EL - Electrical Linear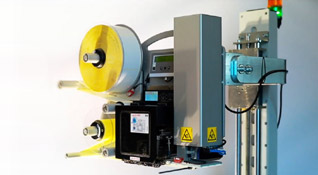 System with the classic Tamp-Blow method for top or side application, without contact with the products and no conveyor stops. With a proximity sensor, it is possible to apply labels on products with different heights. The electrical applicator has a stroke that can reach up to 250mm and can achieve application rates around the 70 labels per minute, depending on the used stroke distance and the label length.
Legi-Air 4050 B BB - Blow Box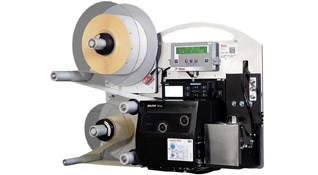 System with a vacuum box (Blow Box) to apply labels using the Blow-On method, that allows contactless applications on the tops or sides of products, without stops. The label is blown against the product without movable parts. Thus, much quicker cycling times are achieved, given that no time is lost moving the applicator arm, which makes this method extremely fast, capable of applying 240 labels per minute onto products with a constant height. Since there are no movable parts, the mechanical wear is basically non-existent, there are no adjustments to execute and all that translates into even lower costs.
Legi-Air 4050 B EB - Electrical Belt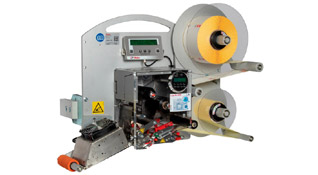 This system is 100% electrical. The system uses the popular Wipe-On method that besides allowing the application of labels in many positions and without stopping the production line, it also does all that without needing compressed-air. What makes this Wipe-On system special is that the label is held by transport belts, which allows labeling products that travel at faster speeds than the print-speed, assuming that they are properly spaced apart to give time to actually print the label. Thus, the system can reach application rates around the 240 labels per minute.
Legi-Air 4050 B ES - Electrical Swing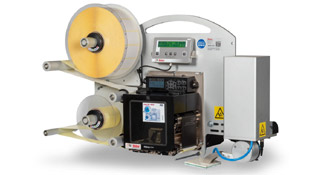 System with an electrical arm that rotates 90º to apply labels using the Tamp-Swing method, which makes it capable of applying labels on the front or rear of the products, without stops or special conveyors. And it can also apply labels on product's side or top in Blow-On mode, blowing the labels directly without executing any movement. And the best is that, with a simple configuration, it can execute double applications, in the front and top or in the front and side of the same product, with a single pass-through.
Legi-Air 4050 B R - Robots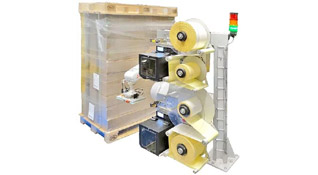 The system is delivered without an applicator and is optimized to be used together with a robotic arm. With plenty of unobstructed free space at the exit of the printer module, the Legi-Air 4050B R allows that a robot comes and picks the label to later apply it on the desired area of the product. It is possible to see an example in the picture, where two Legi-Air 4050 B R are on the same stand and there is a robotic arm with a tamp to receive the respective labels, whether it needs the text A or B. For more information, please contact us.
Specifications

Type

Print-Apply Labeling System

Brand

Weber

Models

Legi-Air 4050 B EL LH (Left-Hand Version)
Legi-Air 4050 B EL RH (Right-Hand Version)
Legi-Air 4050 B BB LH (Left-Hand Version)
Legi-Air 4050 B BB RH (Right-Hand Version)
Legi-Air 4050 B EB LH (Left-Hand Version)
Legi-Air 4050 B EB RH (Right-Hand Version)
Legi-Air 4050 B ES LH (Left-Hand Version)
Legi-Air 4050 B ES RH (Right-Hand Version)
Legi-Air 4050 B R LH (Left-Hand Version)
Legi-Air 4050 B R RH (Right-Hand Version)

Print Engine

Zebra, Datamax, Sato, Novexx, Avery or CAB (pick yours)

Maximum Print Speed

406mm/s (depends on the equipped print engine)

Print Resolution

600dpi (depends on the equipped print engine)

Application Rate

Up to 240 labels per minute (models BB and EB)
Up to 70 labels per minute (models EL)
Up to 60 labels per minute (models ES)

Minimum Label Width

12,5mm (models EL and ES)
30mm (models EB)
50mm (models BB)

Maximum Label Width

160mm (models EL)
150mm (models EB)
120mm (models ES)
100mm (models BB)

(depends on the equipped print engine)

Minimum Label Length

7mm (models EL and ES)
30mm (models EB)
40mm (models BB)

Maximum Label Length

210mm (models EB)
160mm (models EL)
100mm (models BB)
90mm (models ES)

Application Methods

Electrical Tamp-Blow (models EL)
Blow-On (models BB)
Electrical Tamp-Swing (models ES)
Wipe-On with Belts (models EB)
No Applicator (models R)

Application Stroke

250mm (only models EL and ES)

Tamp-Pad Sizes

Customized (only models EL and ES)
120x90mm (only models EL)
120x160mm (only models EL)
160x123mm (only models EL)
(drilled for 1 label size)

Label Placement

Side

Top

Bottom*

Front

Rear

Front + Side
Edge*
Front + Top
Edge*

Front + Side

Front + Top

Wrap-Around*

Side (Flat Bottles)

Top (Lids)

Among others...

(depends on the model)
*requires special conveyor

Application Accuracy

±1,0mm (models EL, ES and EB)
±1,5mm (models BB)

Motor Type

Stepper (Rewinder/Arm) + Printer's Motor


Core Diameter

76mm

Unwinder Capacity

300mm External Diameter (approx. 450m)

Rewinder Capacity

1:1

PC Software

Legitronic (recommended, not included)

User Interface

HMI with 2-line Digital Display
Print Engine's Display

Languages (Digital HMI, Pack 2)

English
Portuguese
Spanish
Polish
Czech
Latvian
Russian

Ports

2x Product Sensor
1x Alarm Lamp
1x Low Label Sensor
1x HMI
1x I/O
1x Printer
1x Applicator
1x USB-B
1x Power Connection
1x Power Extension (for the printer)
+ Printer's Ports
(other ports as option)

Electrical

90 ~ 260V AC, 50Hz / max. 1200W (including printer)

Compressed Air

6bar (only models EL, ES and BB)

Weight

>35kg (depends on the model)

Dimensions (Width x Depth x Height)

Approx. 773mm x 435mm x 586mm (models EL)
Approx. 771mm x 436mm x 576mm (models BB)
Approx. 876mm x 495mm x 643mm (models EB)
Approx. 912mm x 435mm x 604mm (models ES)
Approx. 641mm x 551mm x 584mm (models R)

Noise Emission

<70dB(A) (depends on the model)

Typical Accessories

Stand
Product Sensor
Proximity Sensor on Tamp-Pad (variable stroke)
Alarm Lamp
Multiflex Tamp (for label size quick-change)
more accessories
Alternative Products
Check Also:
Disclaimer
The final version of the delivered system may not match entirely with the presented images and specifications.