Legi-Air 2050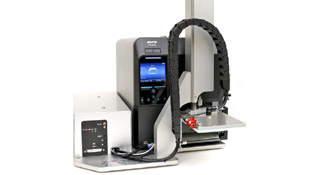 What would be the result of joining a pneumatic Festo applicator and one of the best thermal-transfer label printers together? The result is the LA2050 print-and-apply system. This system, despite being a very economical and compact system, is extremely reliable and precise and includes a sensor on the tamp pad to apply labels without contact with products that have variable heights. It supports several types of applicators for different application methods.
Apply Labels at High Speeds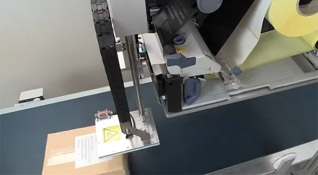 With the Legi-Air 2050 you can print the batch number and expiration date on your pre-printed label or print the whole label when you really need it, moments before its application onto the product. The system can achieve high application rates.
Excellent Precision
Apply your labels in the right spot with millimeter precision. No more misplaced, crooked or wrinkled labels.
"Just-in-Time" Printing
The problem of keeping stocks of labels with variable information that eventually gets obsolete is a thing of the past. Printing the labels when you really need them saves time, money and prevents headaches.
With a Sato CL4NX Plus Printer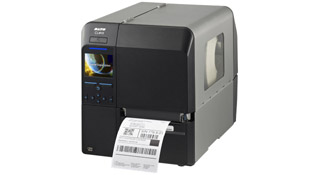 This system makes use of the popular printer from Sato®, the CL4NX to print quality labels. An applicator arm is added to the printer and it can do a precise label application on products that travel on a conveyor.
Use All the Features of the System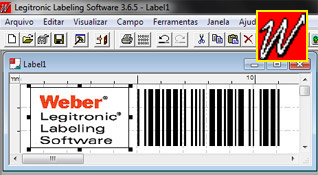 You can use any compatible software with the print engine that you have picked, but it is with Legitronic® that you can take full advantage of your printer. You can create simple or complex labels, with GS1 barcodes and RFID data and start the print jobs. Learn more about the things that you can do with the software in Legitronic.
Different Applications
The standard model uses a linear stroke applicator arm to apply labels on the top of the products, but there is an optional 90º swing arm.
Easy to Use
This system is very easy to set-up. You just need to calibrate the printer to the label size being used, just like it is done for any other desktop label printer. Then, simply submit a print job and the applicator automatically synchronizes with the printer, catching the label and applying it onto the product that was detected by a sensor.
High Quality Sturdy System
These labelers are very robust and reliable, with a lifespan that goes over 10 years. Built exclusively with quality materials, you will not find a single speck of rust and, besides the occasional cleaning of possible label adhesive build-up, they do not require neither lubrication or maintenance.
Safe and Certified Systems
These systems have CE certification and follow all European safety norms and do not require additional protections or safeguards, given the fact that they do not exert forces over 50N and cannot cause injuries.
Specifications

Type

Print-Apply Labeling System

Brand

Weber

Models

Legi-Air 2050
Legi-Air 2050 90º

*Each model has several options

Print Engine

Sato CL4NX Plus 305dpi
Sato CL4NX Plus 203dpi (optional)
Sato CL4NX Plus 609dpi (optional)

Maximum Print Speed

200mm/s (depends on the equipped print engine)

Print Resolution

305dpi (depends on the equipped print engine)

Application Rate

>25 labels per minute (with 80x60 label, depends on the application)

Minimum Label Width

40mm

Maximum Label Width

120mm

Minimum Label Length

30mm

Maximum Label Length

160mm

Application Methods

Tamp-Blow (Legi-Air 2050)
Tamp-Swing (Side) (Legi-Air 2050 90º)

Application Stroke

Adjustable up to 170mm (Legi-Air 2050)

Tamp-Pad Sizes

120x160mm
120x90mm
120x45mm
(drilled for 1 label size)

Label Placement

Top

Side

(depends on the model)

Application Accuracy

±1,5mm

Motor Type

Printer's Motors

Core Diameter

76mm
Fan-fold

Unwinder Capacity

218mm External Diameter (approx. 200m)

Rewinder Capacity

1:1

PC Software

Legitronic (recommended, not included)

User Interface

Applicator's LEDs
Print Engine's Display

Languages

English
Spanish
French
German
...

Ports

1x Product Sensor
1x I/O (to connect to the printer's EXT port)
1x Power Connection
+ Printer's Ports

Electrical

90 ~ 260V AC, 50/60Hz / 5A

Compressed Air

6bar

Weight

Approx. 33kg (depends on the model)

Dimensions (Width x Depth x Height)

Approx. 430mm x 663mm x 591mm (depends on the model)

Typical Accessories

Stand
Manual Triggering Button
more accessories
Alternative Products
Check Also:
Disclaimer
The final version of the delivered system may not match entirely with the presented images and specifications.